What makes our Premium Grade Web Hosting plans different from many other NZ Web hosting providers out there.

There are many things that makes our web hosting different from many other NZ hosting providers. However they can all be summed up in terms of the three most important considerations, when it comes to choosing web hosting for your website. These are 'Reliability', 'Uptime', and the comprehensive 'Backup' protection, that we provide on our 'Premium Grade' hosting packages. All of our Premium Web Hosting plans are of a business quality grade, that are perfect for NZ businesses. We host hundreds of websites for businesses all over the country and they enjoy a premium quality and reliable web hosting service, at an affordable price. Our Premium Grade web hosting plans are also perfect for personal websites, and are compatible with most popular open source systems such as Silverstripe, Wordpress, Concrete5, Joomla, Drupal plus loads more.


Backups and Web Hosting Infrastructure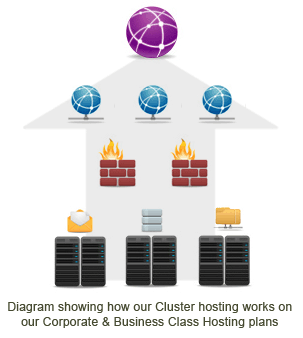 Server backups have become a very topical issue recently, with a number of high profile hosting providers having their servers hacked, and resulting in them losing many of their clients websites, with significant downtime and inconvenience.
For a start, our Corporate hosting plan is also hosted in a server cluster where different services are split between different servers. Therefore should one service go down, such as an email server, other services such as your website will continue to operate whist the email service is being worked on. The diagram to the right, is a diagrammatic representation to how cluster web hosting works, and how your different hosting services are stored on multiple servers. We are only one of a few providers in NZ who provide this sort of cluster hosting. View more information.
Our Premium Grade CPanel hosting plans have 3 layers of backups.
- The first layer is the servers all are in raid arrays, protecting them from disk failures. This also applies to our Corporate and Business plans above.
- The second layers are daily / weekly / monthly backups to local backup storage. This way if a hacker attacks a site, or you delete something by accident or numerous other activities, we can restore from a recent backup.
- The third layer is our remote disaster recovery backups. These are incremental backups that occur every 4 hours. This would prevent for any type of disaster at the webserver, such as complete wipeout of a site, and it's backups. This would be useful in case a hacker was ever able to take down all data on a server.
Most providers do not provide anywhere near this sort of comprehensive backup protection, due to the very high costs involved. Many low cost providers offering cheap and low cost web hosting plans, will only do daily or weekly backups. Some don't do any backups at all and rely solely on their customers to backup and restore websites should their servers lose their data. This maybe fine if you have a tiny budget, hosting a personal website, or are a startup business, but it maybe costly if you are a business and need a good quality reliable hosting service.
Although we do also require all our clients to maintain their own locally stored backups as per our terms of service, the server backups do provide additional protection, especially for hardware failure and hackers. Please note that the backups we provide are mainly for server restoration. A service fee does apply if you want us to manually restore a backup for you from our backups. In most cases we will give you an option of what backup you will want to be restored. Please note that accounts that over quota or suspended will not be included in the server backups.
Our Premium Grade web hosting plans also come with some of the top hosting and domain management control panels, putting you in total control of your web hosting and domain management 247. These control panels include our NZ developed Hosting Management control panel, and CPanel. The control panel depends on what hosting plan you are on. Many other providers provide cheaper control panels such as PLesk and Direct Admin, but we believe that our clients should be provided with the best control panels out there.

All Premium Grade web hosting plans are also updated with the latest security patches when they are available. Also the server software versions are upgraded on a regular basis. We have seen several web hosting providers that are running very old and out of date server software, which can leave the hosting servers susceptible to hacking.


Watch our video below, with views inside our NZ datacentre

Network,
Datacentre, Reliability and Uptime...
Our Premium Grade web hosting plans also use the best upstream providers and networks, and all the hosting servers are housed in Telco grade professional Tier 3 or better datacentres. We don't host our servers in our office, nor do we have our own small datacentre. We prefer to leave all that to the professionals, so it is all setup and stored in a large telco grade datacentre, where they have all the backup systems in place.
Our Corporate hosting plan is hosted in the Vocus Datacentre. This is a large Auckland Tier-3 data centre based on the North Shore of Auckland. This houses our cluster network which consists of more than 500 servers. The Auckland datacentre and network has the following specifications.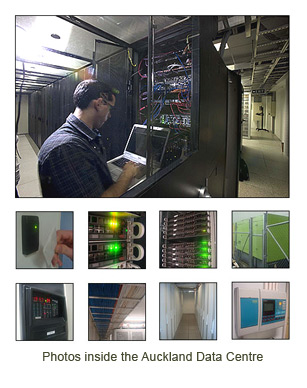 Connectivity
2 x 155mb fibre through Telecom and TelstraClear.
1 x Gbps fibre circuit through Vector Communications.
Peering through Auckland APE and WIX exchanges.

Power & Cooling
- Raised floor for individual cabinet airflow.
- Industrial air conditioning.
- Multiple UPS (uninterrupted power supply) batteries.
- Multiple incoming power feeds.
- Auto-start diesel generator.

Security & Protection
- Access by swipe card only.
- 24-hour alarmed and monitored.
- CCTV monitoring of facility.
- Securely locked server cabinets.
- Early-warning smoke detection system.
- Concrete floors, walls and ceilings.
Our Premium Grade CPanel plans are hosted in large telco grade datacentre in Los Angeles, where our US technicians have direct physical access. The network is comprised of two Cisco 6509s with 10G uplinks running at the core. The 6509's are fully redundant and running iBGP and HSRP. If one fails, the other is able to take on the full load of the network. We have multiple gigE fiber optic (1000Mbit/s) connections from the worlds leading telecommunications companies. With multiple GigE connections, this allows for the high bandwidth that is required for even the most bandwidth intensive programs needed to stay competitive in the ever changing World Wide Web. We also have public and private peering agreements with over 400 ISP's all over the world. We get our IP transit Global Crossing, Mzima, Internap and PCCW via multiple gigabit fiber uplinks to our core routers/switches. All of our servers are hooked up to APC remote reboot ports in the event that they lockup for any reason. All of the servers are protected by state-of-the-art hardware firewall's, where we have Cisco PIX for the network, as well as additional software firewall's for the servers. Everything is logged and routinely scanned by our system administrators. Read more...

Peace Of Mind
Through our parent company, we have been in business since 2001, which means we have been hosting websites for NZers for over 10 years. This makes us one of NZ's longest serving web hosting providers. We have seen many hosting providers come and go over the years. Many of those that have disappeared are ones who have catered for the lower end of the market, offering lower quality hosting and support, and selling hosting at unsustainably low prices. We decided to cater our Premium Grade hosting plans in the mid to higher range NZ market, which allows us to offer affordable and long term sustainable pricing, with a very high quality hosting product. This gives our clients the peace of mind. Read more...
We also have written the article 'The Facts About Web Hosting', which discusses more of our advantages over other web hosting providers, and what to watch out for with other hosting providers out there. You can read this by clicking here...

Top reasons why people choose iHOST:

100% Kiwi Owned Company based in Wellington.
We have been providing hosting since 2001. That's over 12 YEARS!
No Setup Fees.
The Worlds Leading Hosting Control Panel (cPanel™) more»
Both Windows or Linux Hosting Options. more»
Both New Zealand and Quality US hosting server options.

We don't use cheap Asian or Eastern European providers, unlike many other providers.

more»
We provide inexpensive hosting, but it's by no means cheap hosting. We offer some of New Zealand's best value hosting plans on high quality and powerful server networks. more»
Tier 1 internet connectivity. more»
Hosting Control Panels with ALL Web Hosting Accounts. more»
Long Term Sustainable hosting and pricing. more»
Comprehensive knowledge of hosting and domain names.
Graphics and information relating to hosting specifications have been provided to us by our upstream providers.